NAS Profile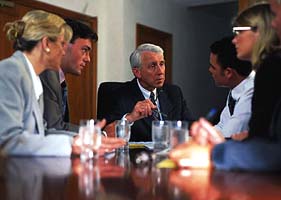 The National Association of Stockbrokers holds weekly Corporate Focus luncheon meetings in key cities across the United States. At these luncheons, management presents their company story to leading brokers and analysts. These members of the NAS are able to get firsthand knowledge of public companies they follow for their retail and institutional clients. It is the best way to broaden support in your stock.
In the last 22 years we have developed an exclusive list of top stockbrokers, analysts and institutional money managers. We now have approximately 20,000 members nationwide, 400 in each of the 45 chapters. Our members are most concerned about recent developments and future outlook. This face to face contact is very beneficial since they recommend stocks they know about personally. Most of our companies come back every year to keep in contact with our chapters.
Corporate Focus meeting programs that the NAS arrange have become an integral part of corporate investor relations activities. Management of companies, both big and small, realize the effectiveness of face-to-face meetings with top investment professionals. As a result, many speakers will book a series of dates with various NAS chapters each quarter to keep up continual contact and cultivate a following.